May time, climate issues, temperature issues. May has the most beautiful scenery, the most beautiful bride in May, the most beautiful mood in May, what are you waiting for, May 1 small holiday, treat yourself, bring...

May time, climate issues, temperature issues. May has the most beautiful scenery, May has the most beautiful bride, May has the most beautiful mood, what are you waiting for, May 1st holiday, treat yourself, bring your loved ones or friends to travel to Southeast Asia, and taste the upcoming summer. Let's go!
Recommended location Phuket, Thailand

Recommended reason:

With plenty of sunshine, white beaches, clear waters, mysterious lagoons and lush forests, it is a paradise for diving enthusiasts. There is also a wonderful nightlife, a stylish bar, an authentic Thai massage, and a wonderful performance of the singing and dancing performances... lively and fragrant.

Recommended gameplay:

After coming to Phuket, PP Island is an important destination for most tourists. It takes about 1.5 hours to get off the island by speedboat. There are not only beautiful beaches, blue waters, but also cliffs that line the blue sky from the sea – where bird's nests are collected. As soon as you set foot on PP Island, the clear waters and colorful fish seem to have waved to you enthusiastically, so that you can't wait to join them. With simple snorkeling tools such as goggles, ankles and suction pipes, you can see the sea creatures such as colorful corals, seaweeds, sea anemones and starfish.

Phuket, when the sun sets, is another fascinating view. On the beachside, the setting sun gradually dyes the sky and the ocean into a piece of orange. The beach is bathed in soft golden sunlight, making people feel extraordinarily quiet. After the night, the bars along the beach gradually became more and more lively. The bar here is basically open-air or semi-open. After the day's exposure, the chair becomes warm; with the sea breeze, the faint waves, and the exotic music, people gradually become lazy. You can hold the oversized cup and drink the bubbling beer. If you want it, you can put an ice bucket, put a few bottles of beer inside, go to the beach, find a beach chair and sit down to the sea, with moonlight. Make lights and enjoy the sound of the waves.

Tips

1. The exchange of Thai baht can be exchanged at the Thai airport in US dollars, Hong Kong dollars and Renminbi; the exchange rate is about RMB 1 = 4.4 baht.

2. Thailand time is one hour slower than Beijing time.

3. During the trip, local fruits in Thailand must not be tried, durian, mangosteen, mango, dragon fruit, etc., are very recommended.
Singapore Sentosa

Recommended location in Sentosa, Singapore

Recommended reason:

Resorts World Sentosa, a family resort in Singapore's tropical rainforest, has an unparalleled appeal to children. Not only does it include Universal Studios, but there are also four top-notch specialty hotels that are a great destination for families.

Recommended gameplay:

Resorts World Sentosa, which opened last year, has a world-class movie theme park, Universal Studios Singapore, the fourth global cinema in the world after Hollywood, Orlando, Florida and Osaka, Japan, and the largest in Asia. Comprehensive entertainment city. There are seven theme areas in Universal Studios, including the world's highest double-track roller coaster, the world's first monster in the Shrek animated film, the first sci-fi urban theme area beyond time and space, the Universal Studios feature live show, Hollywood classic superstar Marilyn · Monroe, Betty and other characters incarnation... DreamWorks Animation "Madagascar" also made its debut in the Universal Studios Singapore theme park as "the world's first". It is worth mentioning that in the Universal Studios there is also the world's first Transformers roller coaster, "Transformers" director Michael Bayi participated in the design, riding the Transformers roller coaster, can definitely bring the top stimulating feeling to the children.

This integrated entertainment city also retains the tropical nature of the natural forest and coastal landscape, visitors can enjoy world-class entertainment, and there are many different styles of shops and restaurants to choose from. In addition, in terms of accommodation, Resorts World Sentosa also includes different styles of hotels, especially for parents to enjoy leisure and happiness, so that children can find their own fun.

Tips

Transportation: It takes about 4 hours for Guangzhou to fly directly to Singapore or Kuala Lumpur. You can also choose to fly to Singapore via Hong Kong.

Accommodation: Visitors can choose to stay in one of the six hotels in Resorts World Sentosa. Especially recommended are the vibrant and energetic festival hotel rooms, designed to cater to the needs of families, including opening up separate bedrooms for parents and for children. A loft-style bed is available.

Gourmet: Xinma's signature gourmet Bak Kut Teh, breaded chicken and black pepper fried crab, crab yellow shark's fin, curry fish head and other authentic food, definitely worth a try.

Due to the local customs policy, Canada data is with two kinds of data, Canada buyer list (with company name by HS code) and

Canada statistics data (with price, quantity by HS code).

It supports to be checked in the GTO database, without any limitation on HS code or company searching.




If you're thinking about entering a new market, but are not sure which, our data can prioritize target markets.
If you're looking for importers, distributors, potential end customers, or partners, our data can screen out them.




Canada Import Data monthly summary Report for Chapter 29 from China: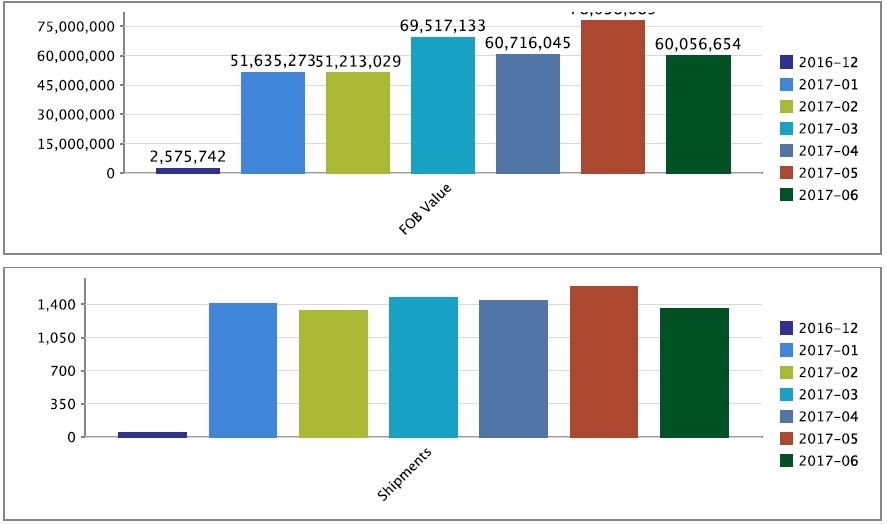 Canada Trade Data,Canada Exports,Canada Import Report,Canada Export Report,Canada Customs Data

Global Trade Online Limited , https://www.gtodata.com